September 27, 2011
Written by Julia Chongarlides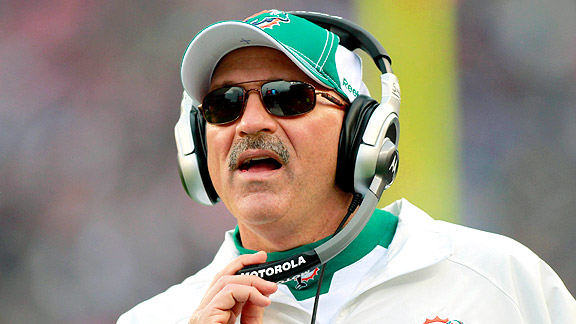 Coach Tony Sparano is 0-3 in the month of September and his job is being questioned. After last year's season, his seat began to sizzle but now it is definitely starting to boil.
Last game in Cleveland, Miami scored just one touchdown in three stabs at the red zone. They can't seem to get it done. And let's not forget about Reggie Bush and his inexcusable red zone fumble. He had 11 carries and a measly 12 yards in Sunday's loss to the Browns. The worst part: It's not like the Browns played well either. Colt McCoy was missing receivers all game until the winning drive, when he completed 9 out of 13 passes for 80 yards.
In the fourth quarter of Sunday's loss, Chad Henne threw three straight incomplete passes followed by an interception intended for Brandon Marshall.
Confidence is still and issue according to Saprano and Henne
. What's it going to take for these guys to go out there and get that ever-so-elusive W?
There are 13 games left for the Fins to show if they have any resilience in them. Otherwise, Tony might be heading to the bench for good. Miami travels to San Diego on Sunday, October 2nd, to face off against the Chargers. This will be Miami's final game before entering their bye week. Kick off starts at 4:15 EST on CBS.