March 24, 2011
CHICAGO -
The Panthers hadn't scored a goal since 13:26 into Saturday's tilt with the New York Islanders. They were hoping for a reversal of luck and a chance to rebound after Tuesday's tough 1-0 loss in New York to the Rangers, but instead their scoreless drought continued as they fell 4-0 to the Chicago Blackhawks. The Panthers have not scored in 133:34. Tomas Vokoun was on his game, stopping the first 21 shots against him, but the next 10 proved to be too much, as he allowed four of them to get behind him.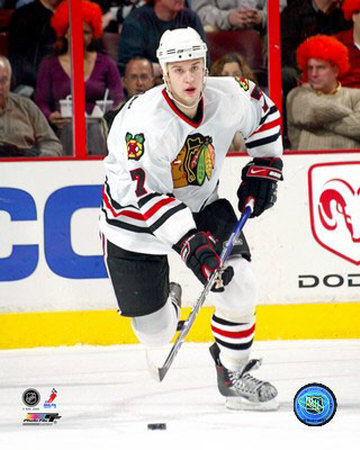 Seabrook
 The Panthers started to play sloppy around the 14:00 mark of the second period, and were called for a too many men on the ice penalty 9 seconds later. It was that powerplay that allowed Brent Seabrook, who was camped out in the right wing faceoff dot, to slap the puck in for his 5th goal of the season. He got the pass from the center point from Ducan Keith and Jonathan Towes also assisted on the powerplay goal at 14:41.
With a 1 goal lead, Chicago was not comfortable. They went into the intermission and third period with one goal. The came out and achieved that goal 46 seconds in. Patrick Kane started the rush with a defenseive end interception. He passed it to Towes down low, who found Viktor Stalberg on the other side of the crease. He wristed it past Vokoun's arm to give the Hawks a 2-0 lead.
They were not done yet. Keith has received the puck from Seabrook. He then passed it to Kane in the circle. He somehow got a wrister off before falling down. The puck appeared to take a funny hop and just somehow make its way into the net to make it 3-0. The Panthers were looking like this would not be their night. It was Kane's 25th at 12:04.
The icing on the cake for Chicago came at the tail end of the game. 17:05 in, the Slovak express took hold. Marian Hossa took the puck in, passed it to Michael Frolik, who EVERYONE in the building (including Vokoun) thought would shoot the puck (I mean, he DOES want a goal against his old team, right?). Instead of waiting and setting the puck up, he passed it to
Tomas Kopecky who had a WIDE open net to score on, and he did just that. It was 4-0 and that was the final.
CAT BYTES:
Corey Crawford was amazing in the game, stopping all 23 shots he faced. The Panthers continue their season-long 5 game road trip Friday in Buffalo when they take on the Sabres.
THREE STARS:
Brent Seabrook (1 G 1 A)

Jonathan Towes (0 G 2 A)
Corey Crawford (W 23 SV)