March 24, 2011 1:05 PM, Roger Dean Stadium, Jupiter, FL
RADIO:WAXY 790 The Ticket (Miami)
STARTING PITCHERS: FLORIDA - Javier Vazquez vs. BOSTON: Clay Buckholz
FISH AND CHIPS: Fish and chips will be a regular feature in 2011. This is where the latest news and notes will be posted. Here is the first edition of "Fish and Chips"...
EXPERIMENT OVER:
Matt Dominguez has been sent back to minor league camp. He posted a .190 BA in 16 appearances and 42 ABs in the 2011 spring season. Look for him to start the season most likely in AA Jacksonville or AAA New Orleans before getting a late May or early June call up to the majors. He has to figure out how to hit major league pitching to be successful, though. If he can figure that out, he WILL be a star in the MLB. The temporary fix has Omar Infante moving to 3B while Emilio Bonifacio holds the fort at 2B...FOR NOW! Of course, things can change completely if Chris Coghlan is not ready to start 2011 in CF.
OTHER DEMOTIONS: I missed a few from last week so this includes both last week and this week:
TO MINOR LEAGUE CAMP:
Dominguez

Elih Villenueva (RHP)

Clint Sammons (C)

Tim Torres (INF)

John Raynor (OF)

Ruban Gotay (INF)

Joe Thurston (INF)

Frank Mata (P)

Josh Kroeger (OF)
A few interesting names remain in camp with possibly 1 more cut expected before the roster is finally trimmed down to 25 men. These guys are all battling for a roster spot:
Greg Dobbs (INF)

Donnie Murphy (INF)

DeWayne Wise (OF)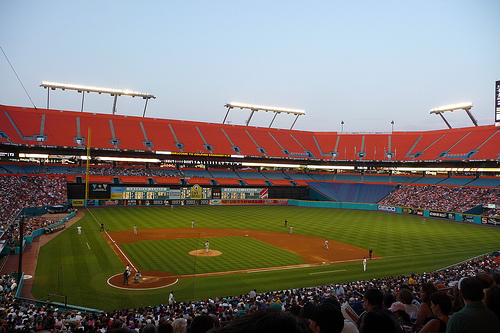 PUBLIC WORKOUT:
On Thursday, March 31, 2011 at 7:00pm, the Marlins will be holding a workout at Sun Life Stadium. The Workout is open to the public, and gates open at 6:00pm. This will lead to the kick off of the team's final season at Sun Life Stadium on April 1.
BALLPARK COUNTDOWN - ONLY 78 HOME GAMES REMAIN AT SUN LIFE STADIUM IN 2011.