February 25, 2011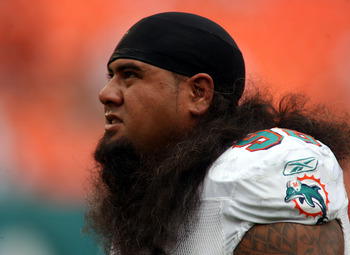 Miami Dolphins
The Dolphins officially placed their franchise tag on NT Paul Soliai, worth about $12.5 million for one season.
Ex-New Orleans Saint and former University of Miami tight end Jeremy Shockey took and passed a physical with the Fins yesterday -- no word yet as to whether Miami has offered him a contract.
Dolphins GM Jeff Ireland stated at a press conference yesterday that Chad Henne is Miami's starter "for right now." This could be taken in different ways though and is not a bonafide endorsement of Henne.
In other news, New York Jets head coach Rex Ryan guarantees a Super Bowl title next season -- this comes after failing to follow through on the same promise two years in a row.
* * *
Miami Heat
The NBA trade deadline came and went with the Miami Heat not making any moves, despite reports that the team was floating Mike Miller as trade bait for a center or point guard.
While Miami didn't make a move, their chances at title contention improved with the Boston Celtics shipping center Kendrick Perkins out to Oklahoma City. Perkins caused serious problems for the Heat while a member of the Celts (averaging 15.4 points and 7.7 rebounds versus Miami in '10-'11 and '09-'10).
Miami still awaits the buyout frenzy to begin now that the deadline has passed. Players like Troy Murphy and Rip Hamilton have been mentioned as likely veterans have their contracts bought out.