January 13, 2011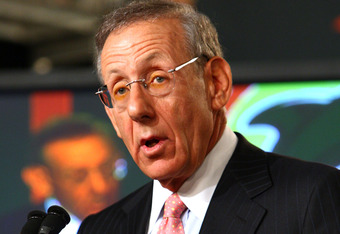 Dol-Fans have had their seat belts fastened for quite some time now on this roller coaster ride known as the Miami Dolphins franchise. Even before Wayne Huizenga handed the reigns to Stephen Ross, the Dolphins were constantly climbing and falling. Right now the team is still caught in the midst of a rough ride with Mr. Ross at the helm of the control room.
As the conductor of this roller coaster, Ross has been in charge of its design and operation for three years now. Thus far, this thrill ride has left more fans sick to their stomachs than pumped with excitement. This just means that Ross' execution of his vision has not panned out as planned, but at least his intentions are aimed in the right direction.
The latest controversy spurring from the
Dolphins courting of Jim Harbaugh to replace Tony Sparano
marked another strike on Ross' list of poorly executed efforts. On that list you can also find the search for
public funds to improve the stadium
as well as the extra-flashy initiatives to spruce up the stadium environment. Many agree that searching for a coach while one is under contract, asking for tax dollars to make non-essential renovations and mixing star-studded extravagance with gridiron grit are all objectionable moves.
But at the root of these moves there is are intentions that most of us can appreciate. An intent to improve the team by seeking a high-profile coach. An intent to make the stadium a more comfortable, enjoyable and engaged destination. An intent to add excitement beyond the product on the field.
While theory has not translated into practice for Ross and the Dolphins, there still seems to be light at the end of the tunnel.
Ross has taken risks and made bold moves by acquiring Brandon Marshall and Karlos Dansby. Beyond that, he understands the fans' collective frustration with the offense and has openly
voiced a desire to open up the playbook
. In his own words:
"I've told Tony [Sparano] that to me, I want an aggressive, creative [offense] not playing just to keep it close, where people really are a little more unpredictable...So I think I look for a different brand, seeing the Dolphins how fans want to see it, and how we win, going downfield, in the days of Dan Marino, the days we all want to go back to."


In other words, this guy has the right ideas in mind and just hasn't been able to implement them properly. In football, it's not the thought that counts but the results you produce. Ross' ability to make his good intentions a reality in Miami will ultimately determine whether he steers Miami onto the joyride they've longed for decades or leaves Dol-Fans on this track toward another forgetful era.