November 10, 2010
Ever heard of those stories about mid-aged men and women finding themselves with a sudden sense of self-doubt? In an epiphany, these individuals realize they are none too happy with the direction their life is headed toward and take drastic action to change that trajectory. This is a typical case of the midlife crisis.
In the case of the Miami Dolphins, their life is this season and their crisis is the mediocre 4-4 record they currently hold.
With a swift arm, Miami added a new member to their secondary in Al Harris, released an under-performing Jason Allen, benched starting QB Chad Henne and named seasoned veteran Chad Pennington the new starter. These are all moves that a team confident of their playoff chances would never make.
Despite the roster mix-up, the Dolphins made a statement that they still believe this season is not lost.
Had Miami given up on the season they would have let Henne finish the second half, earning or losing his spot as a starter next season.
Had Miami given up on this season they would have replaced Jason Allen with a more youthful defensive back, as opposed to a savvy veteran option.
Had Miami given up on this season they would have never chosen short-term solutions over long-term possibilities.
Implications of the Fins' Moves
To begin with, the addition of Harris and subtraction of Allen brings two major consequences - one good, one bad:
It adds a veteran presence (beyond Yeremiah Bell) to a mostly young core, which could add stability and lead to mentorship opportunities between Harris and Sean Smith, Vontae Davis, etc.
It puts Harris' health and physical capability to the test at his ripe age of 35 years old and coming off a severe knee injury (i.e. If Harris goes down, who will replace him?).
Essentially, the Dolphins made a high risk, high reward transaction.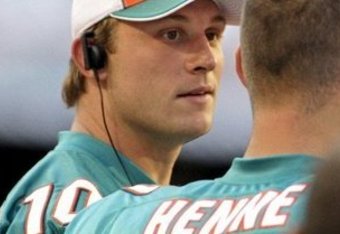 As for the quarterback situation, Miami made a safe move but also one that presents more questions than answers. Sure, Pennington is an accurate, game-managing QB that has established a mostly successful career and is capable of turning this season around. But what will the Dolphins do once Pennington's contract expires at season's end?
Do they re-sign Penny to yet another short-term contract and risk him getting injured at some point next season?
Do they reassess the Henne situation after doubting and abandoning his potential value?
Do they settle for an unproven option in Tyler Thigpen or a rookie QB in next year's draft?
And there's plenty more where that came from.
As Bill Parcells famously said, "you are as good as your record," and the Miami Dolphins are clearly unhappy with how "good" they are right now. So whether you call this a mid-season crisis or a necessary change of course, it can be agreed that Miami is unafraid to pull the trigger when deemed necessary.
At least Dol-Fans can appreciate the Fins' decision to sacrifice their pride for the sake of ultimate goal: to win.