October 4, 2010
I'm calling it right now. Tonight will be a smash mouth showdown filled with prolific offense and opportunistic defense between the New England Patriots and Miami Dolphins. Expect all the drama of a classic
Monday Night Football
game between two rivals, because these two squads will have their season's defined tonight. Similarly, both teams will try to keep up with the New York Jets in the division standings. But for Miami this game means more than just a week four match-up.
It sets the tone for the rest of the season.
It couldn't have been stated any better than Dolphins beat writer
Armando Salguero put it in his Miami Herald article
. In Armando's own words, "[t]he Dolphins will streak headlong in one of two directions after Monday night: Things will get very good, or we're in for some hard times." In sum, a loss places Miami at 2-2, winless at home and with a sour taste entering the bye week. Whereas a win provides a morale boost for the Dolphins with a 3-1 record and a positive outlook on the rest of the season.
With that said, here are the noteworthy points of tonight's crucial game:
Containing New England's Offense
Moss: 45 reception, 760 yards & 10 TDs vs Miami
Plagued with one of the worst passing defenses last season, the Dolphins were notorious for allowing big plays. In fact, the Patriots held two of the top three biggest plays Miami allowed last season: an 81-yard pass to WR
Sam Aiken
and 71-yard bomb to WR
Randy Moss
. Exploitation was the name of New England's game. And they succeeded at it.
Miami's revamped defense looks to revert that trend and shut down Bill Belichick's offensive game plan. With a more mature - yet still young - secondary, the Fins are more prepared for the air assault that Brady will try to orchestrate in Sun Life Stadium. Moss and WR
Wes Welker
will be the targets of Miami's highest interest, but the up-and-coming New England tight ends may serve as greater causes for concern.
TE
Aaron Hernandez
and TE
Rob Gronkowski
have already made significant impacts in their short rookie tenures. And Miami has given up large chunks of yardage to opposing TEs, namely
Visanthe Shiancoe
(Minnesota Vikings) and
Dustin Keller
(Jets). Thus, the tight end production will be a major factor tonight.
Bottomline:
Miami must limit blown coverages and play physical against the Patriots receivers and tight ends.
Challenging the Patriots' Suspect Defense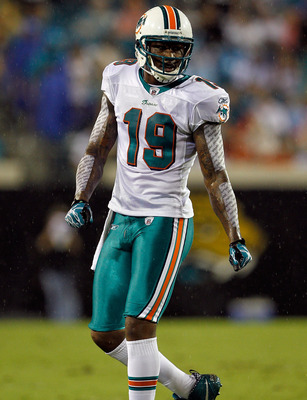 Marshall: 8 receptions, 64 yards & 2 TDs vs NE (2009)
Let's get this straight: This is not the same Patriots defense of the early 2000s. To make this point, here are some defensive stats for 2010:
New England has allowed at least 24 points in each of their first three games
They are currently ranked 27th in the league in total defense
They are allowing an average of 260 passing yards per game
If these stats send any signal to the Dolphins its one that is bright and green. Green as in "green light" for aggressive offensive play calls. You bet your Dan Marino jersey that
Tony Sparano
and
Dan Henning
are opening up the playbook for this game.
This means QB
Chad Henne
will be looking for another career night at home. This means that WR
Brandon Marshall
will be targeted early and often against the Pats' young corners. This means that RB
Ronnie Brown
and RB
Ricky Williams
(AKA The Miami Ground Machine, AKA The R&R Express) will be used to bust open New England's porous defense.
Bottomline:
Torch em' through the air, tire them through the ground. This will be the most vulnerable defense Miami has faced yet, and they must take advantage of it.
Winning the Turnover Battle
CB Vontae Davis had 2 interceptions vs Tom Brady last season
Ultimately, the turnover differential will decide this game. In such a closely contested battle (odds have the Patriots as one-point favorites), turnovers will be key to victory.
The Dolphins currently have a -1 turnover ratio, but have shown solid defensive efforts in two of their first three games. Most notably, the week two match-up versus the Vikings was a promising performance as the Dolphins forced four turnovers. But if Miami wishes to recreate that kind of performance tonight, they will need to apply more pressure than they did versus the Jets last week (no sacks, interceptions or fumbles forced vs NYJ).
It's time for
Mike Nolan
to get creative once again and put his unique defensive schemes to the test. In other words, if you see Brady with a dirty uniform and his head down on the sidelines, then Nolan and the defense have done their job.
On the offense's end, Henne must continue to protect the ball and make smart decisions as he's done thus far, while the Miami RBs need to cure themselves of the
fumblitis
. That's as straightforward as it gets.
Bottomline:
Don't give the Pats' defense any opportunities to build up confidence by limiting poor passes and careless fumbles. At the same token, keep Brady off balance with a steady dose of pressure all game long.