September, 24 2010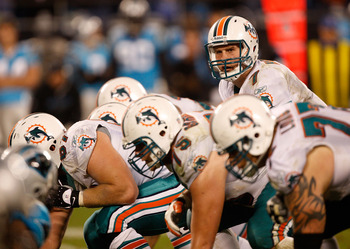 Remember last season - when the Miami Dolphins invested $155 million in the offensive line? Enter 2010 and a chunk of that investment is no longer on the team. Jake Grove, Justin Smiley and Donald Thomas are now a part of this team's past after getting paid to be a part of their future. Given these circumstances, it's easy to understand why the front office received so much criticism prior to the season's start.
The only mainstays on the o-line since the Tony Sparano era are Jake Long and Vernon Carey. And they have done an admirable job during their tenures, but have dealt with a revolving door in terms of their lineman teammates. Put it this way, Miami has begun each of the past three seasons with a very different starting lineup at o-line.
However, the revamped line for 2010, touting new starters in Joe Berger, Richie Incognito and John Jerry, has silenced all critics of the administration's line moves this offseason. Against a formidable Minnesota D-Line, the Dolphins provided Chad Henne with staunch protection. Now, allowing five sacks in two games may not sound like the line is providing good protection at all. But if statistics showed how much time Henne has benefited from in the pocket, it would put everything in greater perspective.
The o-line's biggest test thus far will come September 26th versus the New York Jets. The aggressive blitz packages and pressure defenses that Rex Ryan will throw at Miami will be as intimidating as they come. If the Fins can hold up the trenches and keep Henne mostly on his feet, they will receive a certified stamp of approval from the doubters.
Perhaps then this regime can prove that players can come and go, but discipline and philosophy are the long-lasting foundation this team is built on.