August 25, 2010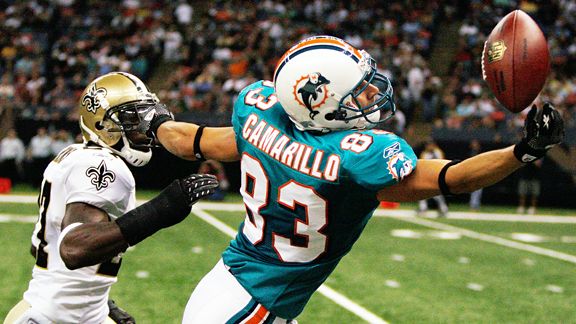 The lasting memory of Greg Camarillo streaking across the field and catching the winning pass to secure the Miami Dolphins only 2007 victory will forever be remembered by DolFans. Unfortunately, Camarillo will no longer be able to create new memories with Miami now that he has been traded to the Minnesota Vikings.
The trade came as a result of sudden instability within the Vikings wide receiving core and the Dolphins' active search for a more solid secondary. In return, Miami receives six-year veteran defensive back Benny Sapp, a South Florida native.
But now that Camarillo is gone, who will step up in replacement?
Out of the available receivers still on the roster, the team must decide between Patrick Turner, Marlon Moore, Roberto Wallace and Julius Pruitt. As of now, it seems that Turner will likely get the nod entering the regular season.
Patrick Turner in game two of the preseaon.
Based on preseason performances, none of the aforementioned receivers have stood out. Turner and Moore both caught two passes for 44 yards in game one of the preseason, but Turner regressed in game two while Moore put up slightly lower numbers. However, Turner's size and his development from last season may give him the advantage in Miami's final roster decisions. It could be possible that both Turner and Moore make the 53-man roster as Wallace and Pruitt are kept on the practice squad.
Another factor to consider is the possibility of the Dolphins acquiring another receiver in the market. Omar Kelly of the Sun-Sentinel labeled Patrick Crayton and Sam Hurd as potential targets, since they have both been rumored to be on the trading block. Such a move would then leave Turner and Moore to compete for the fifth and final wide receiver spot.
As a result of Camarillo's departure, here is what Miami's WR depth chart looks like: Brandon Marshall as the number one, Brian Hartline as the number two and Davone Bess as the primary slot receiver. The remaining two spots are yet to be determined, but should be set by game four of the preseason.
While Miami has now rid themselves of Ted Ginn Jr. and Camarillo's services, the organization feels that Marshall's presence alone has upgraded their passing game. This cannot be determined at this stage of the season, but will soon be put to the test with the Dolphins' formidable opening schedule, including a Camarillo reunion in Minnesota during week two. DolFans can only hope that their team is not on the receiving end of Camarillo's heroics that day.