July 7, 2010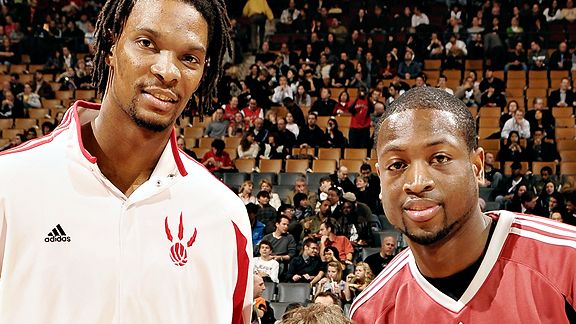 After all the promises he gave his beloved Miami Heat fans, Pat Riley has come through once again with the acquisition of Chris Bosh and the re-signing of Dwyane Wade. Securing at least a dynamic duo with the room to add yet another max contract, the Heat have set a solid foundation for themselves early in this free agent signing period. Now other prospective players can look at Miami as a team with legitimate contending potential and join forces with Wade and Bosh.
While these signings come as both a rush of joy and sigh of relief, there is still much work to be done. Currently two players are signed to contracts on the Heat roster (excluding Wade and Bosh), with the rights to five players waiting in the balance (three of which are rookies). Now it's time to surround the Heat's core with quality role players that compliment the system.
In terms of shooters, Raja Bell has voiced his preference to come to Miami and play in his hometown.With a career 41% three-point field goal percentage, Bell has shot well beyond the arc in just about all of the seven destinations he has played in throughout his career. Re-signing Quentin Richardson could also add another perimeter scorer to compliment the inside-out game that Miami aims for.
However, there are two more positions that will need bolstering in order to round out the roster: point guard and center. Mario Chalmers is currently the only point guard under contract and his performance last season took a dip. Averaging 8.6 points and 4.2 assists in his first two NBA seasons, his production does not fit that of a starting point guard to this point. A veteran point guard, perhaps Raymond Felton, could be the better option at the one spot to open up the game.
As for the center position, Brendan Haywood has emerged as a possible suitor to fill Miami big-man vacancy. A possible sign-and-trade deal could ship Jermaine O'Neal to Dallas in return for Haywood, but such speculation has not gained any legs, so to speak. Miami could even decide to retain O'Neal and sign him to a much more affordable contract. Those are just two options that are obvious, but one can never predict what dealings Riley discusses behind closed doors, especially when it comes to centers. We all know Riley likes his teams built with a bonafide big man, just think back to his days with Kareem Abdul-Jabbar, Patrick Ewing, Alonzo Mourning and Shaquille O'Neal.
Thus, we should can only expect more developments to come in the next few weeks as the Heat look to lat down the remaining pieces to what should be a contending roster. Whether Michael Beasley is a part of that recipe is still highly uncertain. Nevertheless, if things turn out anything like 2005, other valuable players will join the Heat bandwagon en route to a title in the next season or so.