July 30, 2010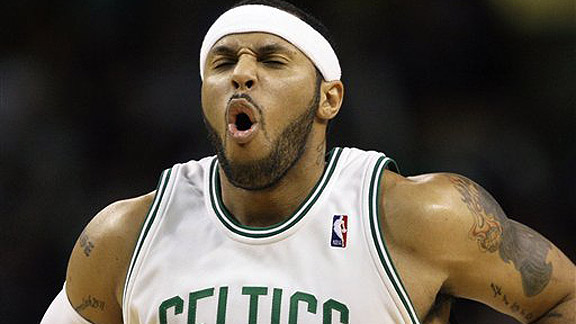 Veteran guard Eddie House is the newest member of the new-look Miami Heat. His two-year, $2.8 million contract makes him the 16th man on the Heat roster. While the league limit for each team is 15 players entering the regular season, teams are able to bring in as much as 20 players into training camp. Beyond that, only 14 players (including House) have guaranteed contracts at the moment. The signings of Shavlik Randolph and Kenny Hasbrouck were likely non-guaranteed.
With that said, the Heat continue to bring in a cast of seasoned role players to round out a roster spearheaded by Dwyane Wade, LeBron James and Chris Bosh. The Heat bench now looks like this:
PF - Udonis Haslem
SG - Mike Miller
C - Joel Anthony
C - Jamaal Magloire
SF - James Jones
PF - Juwan Howard
PG - Carlos Arroyo
PG - Eddie House
C - Dexter Pittman
PF - Shavlik Randolph
PG - Kenny Hasbrouck
House joins Miller and Jones as the Heat's three-point threats. These three have a combined 39.6% career three-point average, with Miller heading the group (40.5%). However, House has the most playoff experience of the group as he has played integral roles on teams like the Boston Celtics ('07-'09 and Phoenix Suns ('05-'06). House actually began his career in Miami and played three seasons for the Heat before turning into an NBA journeyman. His career comes full circle now as he seeks a second NBA championship ring en route before he decides to hang up his sneakers.
One of Boston's recent title runs, in the '07-'08 season, featured House averaging 7.5 points, 2.1 rebounds and 1.9 assists throughout the regular season. Miami could use such a spark off the bench while they rest Wade, James and/or Bosh during the course of a game.
In the greater scheme House adds a worthy weapon to Miami's arsenal of players. While some question this teams ability to compete for a title this season - citing potential pitfalls such as low team chemistry and too much star power at the core - there have been living examples of such teams in the past five seasons to prove such claims wrong.
The Celtics did it in '07-'08 upon the arrival of Kevin Garnett, Ray Allen and a host of new players. But most importantly the Heat did it in '05-'06 as Jason Williams, Antoine Walker, Gary Payton and company arrived to South Florida. The point: It has been done in the past and there is no doubt that it can be done again. It's difficult to question the determination of a team clearly geared towards the ultimate prize the NBA - hoisting up that championship trophy.