June 7, 2010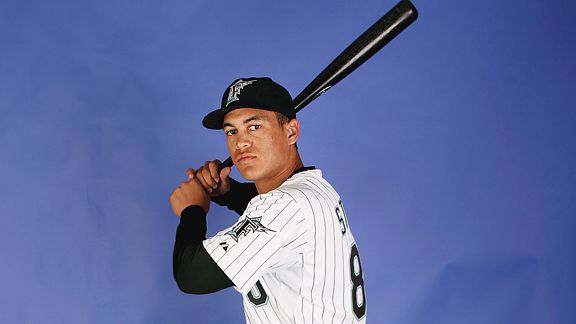 The much anticipated minor league phenom has finally arrived to South Florida after a Florida Marlins series sweep at the hands of the New York Mets. The odd man out was relief pitcher Tim Wood as he allowed three runs in one and two-thirds innings of work, boosting his ERA above five. The move came on the eve of a crucial Philadelphia Phillies series, which begins on Tuesday, and the day prior to the MLB draft, which stretches from June 7th through the 9th. The Marlins find themselves in fourth place in the division (5.5 games behind the lead) and will appreciate the extended offensive production that Stanton may bring to the plate.
According to MLB.com, Stanton is ranked third among all prospects and is the most hyped prospect in South Florida since Miguel Cabrera. In just 52 games of Double-A ball with the Marlins' minor league affiliate, Stanton homered 21 times and was on pace to break the minor league record for home runs in a season. In 2008, he posted a whopping 39 home runs while playing Single-A ball for 125 games. There's no doubt that the kid can legitimately make contact, hit the ball hard and drive in runs.
However a few questions are left unanswered by this call-up. The Marlins still find themselves with a bullpen that is in a state of flux and as inconsistent as ever. Stanton will not resolve Florida's pitching woes. Beyond that, another position player will need to be moved in order to start Stanton in the lineup come Tuesday.
Cameron Maybin seems like the target of replacement, despite his recent improvements on both sides of the ball. Perhaps Stanton will come off the bench at first and fill in during pinch hit and double switch scenarios.
The conclusion is that the move will not be the end all be all for the Marlins. But it could energize the Marlins dugout akin to that of Jason Heyward's arrival in Atlanta.
Thus, Tuesday will be Fish fans' first glimpse at their newest player and the beginning of what may be a revamped Marlins team entering mid-season.