April 7, 2010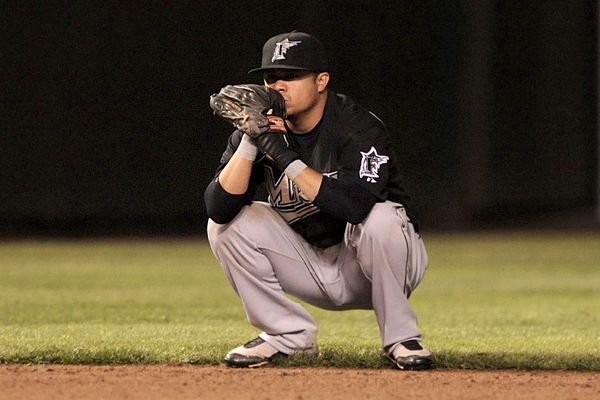 Just over a season ago the Florida Marlins were glad to have a versatile and unique utility player on their roster. One that could play both outfield and infield, as well as use his speed to generate offensive production for the team. At one point he was dubbed "The Flying Mexican" as he carried the pride of a country every time he stepped on the field. His name: Alfredo Amezaga. His status: No longer with the Fish.
But whatever happened to this local fan favorite? At what point did he drop off the map for the Marlins?
Well, Amezaga can now be found styling a Los Angeles Dodgers jersey with a number four on his back. Ironically enough, the Marlins will be opening up their first home series against L.A. on Friday.
Here's a guy that went from playing every position short of pitcher and catcher (literally) in Florida's 2006 and 2007 seasons. And like a swift breeze his role on the team eroded away into nothingness by 2009. From playing in just over 130 games on average during his first three seasons in Florida to barely scratching 25 games in his last season, Amezaga's drop-off was sudden and unforeseen.
What can this be attributed to? A season-ending knee injury that required microfracture surgery in July of '09. The same injury that has kept him away from L.A.'s active roster and relegated him to the minors for rehabilitation with the expectation of a mid-season call-up.
As the Fish continued without him in '09, making a playoff push into the final stretch of the season, the front office realized that Amezaga's services were no longer necessary for the Marlins to succeed.
While Fish fans were both perplexed and saddened by the departure of "The Flying Mexican," the emergence of Chris Coghlan outweighed those emotions. It was the unfortunate demise of Amezaga that gave way for others, like Coghlan (and Brett Carroll), to prove themselves worthy of a Major League roster spot.
Despite his short stint in Florida, Amezaga's passion and effort will be remembered by the Marlins faithful for years to come. Even if he now dons the colors of a foe, you can expect only warm wishes for the former Marlin by the team and the fans.