April 8, 2010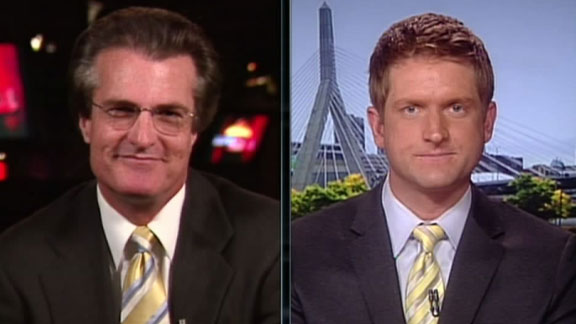 While much attention is paid to ESPN's Mel Kiper Jr. and Todd McShay whenever the NFL Draft rolls around, their mock drafts are as good as the average mock junkie; like this year's NCAA Tournament brackets, they are likely to be busted early and often. Nevertheless, their insight is always interesting to chime into whether fans agree or disagree.
Thus, their most recent mock draft ("
Mock Draft 4.0
") projects Miami going in one direction: defense. But the positions Kiper and McShay believe the Dolphins will address are slightly different. Kiper stuck with his previous choice of Tennessee's DT Dan Williams, while McShay shifted his selection towards Georgia Tech's DE Derrick Morgan. While both Williams and Morgan have been mentioned in the past, it's interesting to see the developments in the draft stock of key prospects and how they've affected the scheme of draft predictions.
McShay threw himself off the Dan Williams bandwagon and factored in the rising value of Derrick Morgan into the equation. After all, it was Kiper and McShay that raved about Williams' rise to prominence in their previous mock. But it seems that acquiring a dominant pass rusher and solid run stuffer was what McShay believes is Miami's primary goal.
We previously mentioned the
effect that Donovan McNabb's trade to the Washington Redskins could have on the Dolphins
, which made Jimmy Clausen's selection at number four overall highly unlikely. It's moves like those, along with changes in draft stock, that constantly change possible draft scenarios.
Miami is fortunate to have a wealth of options available to them despite all player transactions and draft value changes to date. Other recent mock drafts have the Dolphins selecting the following:
Just to name a few.
A notable factor among this small sample of mock drafts is that they all agree Miami will go defense. After all, it seems to be the "Parcells Way" of building teams. But most mocks have eliminated the possibility of Miami addressing the safety position and/or picking a pure linebacker at number 12. Given, Earl Thomas (Texas) is the only other safety outside of Eric Berry (Tennessee) worthy of a Top 15 pick and some of the prospective DE's on Miami's board can switch off as OLBs in a 3-4 defense. But while we can narrow down the positions that Miami will not be addressing, we must still be conscious of what's available when the Fins are on the clock.
The idea of an unsuspecting prospect stumbling down past the first 11 picks could easily sway the Dolphins' final decision. It's difficult to argue that an available Dez Bryant or (by divine intervention) Eric Berry would not make The Trifecta think twice about their choice and what either player could mean to the future of the franchise.