March 23, 2010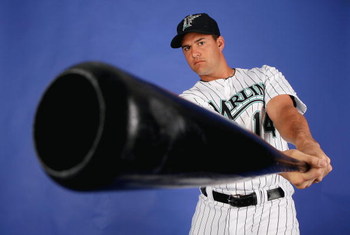 Spring training gives us all a taste of what each Major League team is made of. For the Marlins it gives them a taste of what their players are made of and if they are worthy of making the cut. First baseman Gaby Sanchez and outfielder Cameron Maybin have been vying for starting jobs since last season. It seems as though those wishes may be granted this time around.
Ted Hutton of the Sun-Sentinel reports
the following:
The numbers show what a relaxed Sanchez is capable of.

Last year he hit .194 in 36 at-bats in the spring, with no home runs and no RBI. This spring Sanchez is hitting .387 in 31 at-bats with one home run and four RBI.

"Gaby has had some pretty good at bats all spring, he really has," Marlins manager Fredi Gonzalez said.


In a related story,
Joe Capozzi of the Palm Beach Post added this
:
"Gaby, given a lot of at-bats, he may be a 15- to 20-home run guy. For a first year in the major leagues, I'll take that," manager Fredi Gonzalez said Sunday.

Sanchez hasn't won the first base job yet. But after Florida cut infielder Jorge Jimenez on Sunday, Sanchez is the front-runner to be in the Marlins' starting lineup two weeks from today at CitiField in New York.


In essence, the coaching staff is impressed with Sanchez's performance thus far and lining up their support behind the University of Miami alumnus. The 26-year old has plenty of upside and can become a mainstay in the Marlins system if his development continues to progress. Some would argue that Sanchez is capable of becoming an evolved version of Jeff Conine for the Fish, providing the timely hits on offense coupled with disciplined defense. Marlins fans would be more than thrilled to have another "Mr. Marlin" on their team.
On the issue of Maybin,
Clark Spencer of the Miami Herald had this to say
:
This spring, Maybin has looked much more relaxed at the plate.

And he has been far more successful. With a pair of hits Sunday -- to go with a pair of home runs Saturday -- Maybin is hitting .389.

``I think I was trying to do too much last year,'' Maybin said. ``Every at-bat, I was trying to hit a two-run home run or hit the ball as far as I could. I think I tried so hard to prove stuff, just do so much to show what I could do. But this year I feel relaxed. I feel comfortable, like I am the guy in center field.''


Like Sanchez, Maybin has shown shown improvement and promising signs of what is to come in the regular season.The Marlins would like to see the speedy and agile athlete player centerfield for them from Opening Day onward. While he does not provide power in the lineup, Maybin can use the threat of his speed to turn grounders into singles, singles into doubles, doubles into triples, and so on. Consistency will be the prime issue facing the young man, especially after his sporadic play last season. Only time will tell if Maybin is prepared to handle 162 Major League games.