March 10, 2010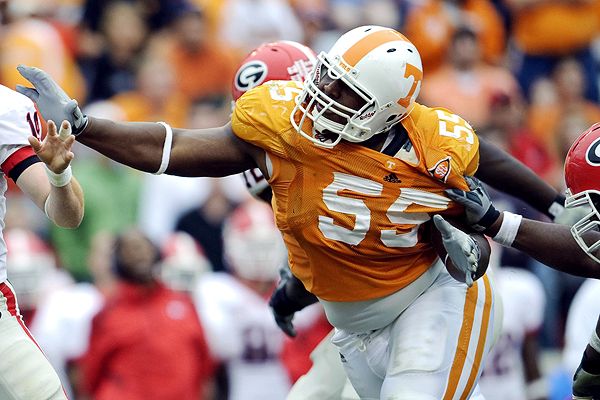 Update (4/14/10):
Brandon Marshall's acquisition
has further shifted Miami's draft projections.
With constant developments in the NFL offseason, draft projections are bound to change according to every new situation. As we stated in an earlier article, we predicted that the Miami Dolphins draft plans have significantly changed as a result of
Karlos Dansy's acquisition
. But we are not the only ones that think so.
ESPN's very own Mel Kiper Jr. and Todd McShay have updated their mock drafts to include a new projection at the number twelve spot. Whereas linebacker was once the supposed position to be addressed by Miami in the first round, the necessity for a defensive tackle has emerged as the new contender. Even though the Fins re-signed recently suspended DT Jason Ferguson, eight games without their starting hole-plugger will leave a huge void in the defensive front seven.
That is why Kiper and McShay have labeled the 6'3, 237-pound defensive tackle out of Tennessee as the likely first round pick for the Dolphins. His name: Dan Williams. His draft stock: skyrocketing.
Here's a guy who went from being initially projected as going undrafted in 2010 to opening eyes of NFL scouts with his workouts and physical development. Today Williams has become a first round choice without a doubt in the eyes of analysts and talent evaluators.
ESPN Insider grades Williams with a score of 93 out of 100 among defensive tackle prospects, ranking him second behind UCLA's Brian Price. The promising D-Lineman was a dominant force in the SEC last season and could be a solid match for Miami's needs upfront. While he may not seem as impressive as Ndamokung Suh or Gerald McCoy, Williams has the strength, size and discipline to make a significant impact in the NFL. After all, the University of Tennessee has brought out some DT studs, like Albert Haynesworth, up to the pro level.
If Dan Williams is Miami's choice, DolFans can only hope he adds to that Tennessee tradition.
But then again, we could be talking about another 12th pick prospect a week from now.