January 12, 2010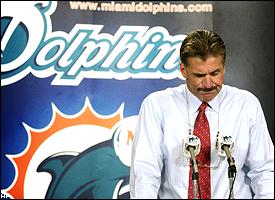 The year 2010 marks the beginning of a new decade, and perhaps a new era for Miami Dolphins football. With the Dolphins on the outside looking in, the focus has shifted from postseason aspirations to offseason preparations. But before we begin to ponder the thought of the upcoming draft, a look into the past would serve us all well; defining the successes and failures that the Dolphins have experienced in previous drafts.
To properly evaluate these
Fins Picks
we will review round-by-round selections, summarize the draft class' impact and value the payoffs (or lack thereof) based on player performance.
Year: 2000
Selections
1st Round -

Traded

to Carolina Panthers in '98
2nd Round - Todd Wade, T, Mississippi
3rd Round - Ben Kelly, CB, Colorado
4th Round - Deon Dyer, FB, North Carolina
5th Round - Arturo Freeman, S, South Carolina
6th Round (a) - Ernest Grant, DT, Arkansas-Pine Bluff
6th Round (b) -

Traded

to Kansas City Chiefs in '99
7th Round (a) -

Traded

to San Francisco 49ers for QB Jim Druckenmiller
7th Round (b) - Jeff Harris, CB, Georgia

The new millenium was clearly not a fresh start for the Dolphins in terms of draft success. Out of six draft choices, there were only two players in this bunch that had an impact (or small dent) on this organization. Todd Wade had three solid seasons in Miami and was a decent offensive tackle, but Miami's third and fourth round picks rarely left their stamp on the field. Arturo Freeman did play a total of 72 games in an aqua uniform, providing a breakout, four-interception season in 2004.

Verdict
Reassuring the offensive line and secondary units is always a top priority in the NFL and Miami was able to partially do so in this draft. Given the fact that no pick was a franchise-changer and most selections were busts, it's safe to say that the overall draft was mediocre. After all, when is the last time you saw a Wade or Freeman jersey floating around the stands?
Grade: C+
Year: 2001
Selections
1st Round - Jamar Fletcher, CB, Wisconsin
2nd Round (a) - Chris Chambers, WR, Wisconsin
2nd Round (b) -

Traded

to Dallas Cowboys in trade-up
3rd Round (a) - Travis Minor, RB, Florida State
3rd Round (b) - Morlon Greenwood, LB, Syracuse
4th Round -

Traded

to Dallas Cowboys in trade-up
5th Round - Shawn Draper, T, Alabama
6th Round (a) - Brandon Winey, T, Louisiana State
6th Round (b) - Josh Heupel, QB, Oklahoma
6th Round (c) - Otis Leverette, DE, Alabama-Birmingham
6th Round (d) - Rick Crowell, LB, Colorado State
7th Round (a) -

Traded

to Chicago Bears for TE Alonzo Mayes
7th Round (b) -

Traded

to Washington Redskins for P Matt Turk
Summary
The opening rounds were solid for the Dolphins in the '01 draft. While Jamar Fletcher never developed into the defensive back Miami expected, Chris Chambers definitely made his mark on Miami's offense (perhaps the last top-tier receiver to play with the Dolphins). Travis Minor became a dependable back-up running back in Miami, holding a six-year tenure with the team, as Morlon Greenwood had the greatest impact on defense from the selection pool, progressing each season in his four-year stint. Unfortunately, beyond the third round there was nothing of value for the Dolphins. The remaining five draft picks averaged under two seasons in the league before being outcasted.
Verdict
It's one thing to have lost Dan Marino in 1999, but to lose O.J. McDuffie the year after was devastating to Miami's offensive depth chart. Selecting Chambers in the second round lessened those losses and gave Miami a long-term, number one target at wide receiver. Chambers recorded 5,688 receiving yards and 43 reception TDs in six and a quarter seasons with the Dolphins; that's what you call production in an era of vanilla Dolphins offense. Add to that Minor and Greenwood's decent performances at their respective positions and it's a fairly good draft.
Grade: B-
Year: 2002
Selections

1st Round -

Traded

to New Orleans Saints for Ricky Williams
2nd Round -

Traded

to Philadelphia Eagles in '01 trade-up
3rd Round - Seth McKinney, C, Texas A&M
4th Round (a) - Randy McMichael, TE, Georgia
4th Round (b) -

Traded

to New Orleans Saints for Ricky Williams
5th Round (a) - Omare Lowe, CB, Washington
5th Round (b) - Sam Simmons, WR, Northwestern (compensatory pick from NFL)
6th Round -

Traded

to Chicago Bears for QB Cade McCown
7th Round (a) -

Traded

to Dallas Cowboys for WR Jeff Ogden
7th Round (b) - Leonard Henry, RB, East Carolina
Summary
With no first or second round draft choices for the Dolphins, Miami salvaged the few selections available to them and fared well in their choices. Giving up their first and fourth round draft picks for Ricky Williams is still paying off to this day as number thirty-four is still running strong. Second round choice, Seth McKinney, found a starting job on the O-Line in his third and fourth seasons as a Dolphin. Sticking around for five seasons proved that he at least was meeting expectations and doing an adequate job of protecting the QB. Randy McMichael was an athletic tight end that complimented Chris Chambers as a second option. Ranking second (next to Jeremy Shockey) amongst rookie tight ends in is a noteworthy accomplishment for McMichael; he went on to secure eighteen TDs in five seasons with the Fins. Beyond that, the rest of the draft pool is not worthy of mention.
Verdict
Coming away with Williams and McMichael from the draft was an immediate plus for the offense and made Miami relevant once again (with th exception of questionable QBs in between). Those two guys in their prime would plaster a smile on any offensive coordinator's face in the NFL. Thus, the 2002 draft was a success for the Dolphins and has had a resounding impact on the franchise. Had there only been more depth in the draft selections, Miami would receive an A+. But since that wasn't the case, they settle for this.
Grade: A-
* * *

To be continued...the next edition of Fins Picks will cover 2003 through 2005. Stay tuned as we venture into the final years of Dave Wannstedt as Head Coach and the beginning of a turbulent era in the coaching staff. And how it affected Miami's draft decisions.