November 4, 2009
Going into week 9, we are halfway through the 2009 NFL season. Here are our picks for mid-season awards:
NFL MVP: QB, Peyton Manning
Reigning MVP Peyton Manning is making a great case for his fourth award. He has led the Indianapolis Colts to a 7-0 start for the fourth time in the past five seasons.
Manning has been the most complete QB this year -excelling in every aspect of the passing game. His stats speak for themselves:
Passing Yards - 2227 (2nd in NFL)
Passer Rating - 109.3 (2nd in NFL)
Completion Percentage - 71.1 (1st in NFL)
Yards per/g - 318.1 (1st in NFL)
Touchdowns - 15 (2nd in NFL)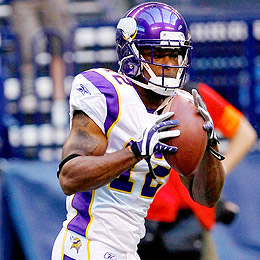 Offensive Rookie of the Year: WR, Percy Harvin
What can't you say about Percy Harvin? When the Minnesota Vikings drafted him out of Florida they knew they were getting a play maker. Every time the ball touches his hands he has the ability to break off for big gains.
Harvin has done most of his damage as a kickoff returner, as his 30.7 yards per return tops the NFL. In the process, he has scored two touchdowns, including a 101-yard return.
As a 4th option for Brett Favre, Harvin has caught 28 passes for 369 yards and 3 touchdowns.
Mr. Underestimated: QB, Aaron Rodgers
Rodgers has done everything he can to get out of Brett Farve's shadow. He leads the league in Passer Rating (110.4) and yards per pass attempt (8.8).
He has completed 65.3% of his passes for 1,989 yards and 14 touchdowns. He has a 7-to-1 touchdown to interception ratio.
The Packers record (4-3) is not indicative of Rodgers' play. He has been sacked more times (31) than any other QB this year and still hoists good numbers. Rodgers is on pace for his second straight 4,000 yards and 25+ touchdown season.
Defensive Player of the Year: S, Darren Sharper
The New Orleans Safety is on the verge of tying two records: most interceptions returned for touchdowns and most interception return yards.
He has 7 interceptions (1st in NFL) with three of them resulting in a touchdown (1st in NFL). The record for most "pick-sixes" in a season is four, held by Eric Allen, Ken Houston and Jim Kearney. Sharper has 11 career interceptions for a touchdown, one shy of record holder Rod Woodson. The most impressive stat is the the 45.3 yard after the interception. Rod Woodson holds the record for most interception return yards (1,483). Darren Sharper is less than 150 yards away from breaking that record.
Some may argue that Jared Allen of the Vikings is leading the race, but the truth is that 7.5 of his 10.5 sacks came against a struggling Green Bay offensive line.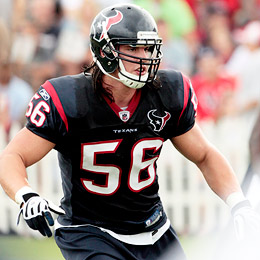 Defensive Rookie of the Year: LB, Brian Cushing
The USC standout is 6th in the league with 66 tackles. He is always around the ball carrier and is disciplined in wrapping up opposing players.
With a young defense around him, the best is yet to come.
Cushing has two interceptions, two forced fumbles, one touchdown and a safety. His 7 pass deflections puts him atop all linebackers in the league.
Comeback Player of the Year: QB, Tom Brady
Did you expect anyone else after he missed all but one quarter last season?
Brady has the Patriots at 5-2 and on top of the AFC East. He isn't back to the standard he set in 2007, but he is back to competitive form.
He is on pace to thr0w over 30 touchdowns and his 3rd 4,000-yard season.