November 18, 2009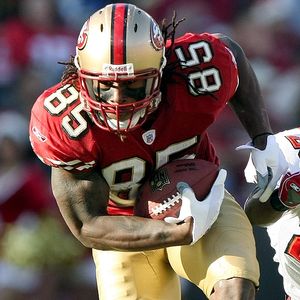 With the 6th pick of the 2006 NFL draft, the San Francisco 49ers took tight end Vernon Davis, out of the University of Maryland. The Niners were confident in his ability to catch passes and become a serious threat on offense, perhaps even to the level of elite tight ends like Tony Gonzalez and Antonio Gates. In his first three seasons in San Francisco, Davis did not live up to those expectations.
Until now.
With the 25th pick in the 2009 NFL draft, the Miami Dolphins took cornerback Vontae Davis, out of the University of Illinois. And it just so happens that 2009 has become older brother Vernon's breakout year in the NFL.
Which begs the question: Does sibling rivalry play into Vernon Davis' recent success?
What else could it be?
It wasn't a change of coaches; Mike Singletary was his coach last season. It wasn't a change of quarterbacks; Shaun Hill and Alex Smith have been interchanging at the quarterback spot for quite some time now. And Vernon Davis is not in a contract year.
So what else would motivate him to improve his game?
In his first three season in San Francisco, Vernon totaled 9 touchdowns in 40 games played. Nine games into the 2009 season, he has already recorded 7 touchdowns. He is en route to surpass his season-high reception yards total of 509 (2007) as he has tallied over 490 yards with seven games left in the season. The improvement is clear.
Now how does Vontae play into all this? Just imagine Vernon having played three seasons in the NFL without accomplishing any significant goals and watch his "little bro" enter the league and begin to upstage "big bro." It seems that Vernon told himself that's not going to happen.
Vontae has enjoyed valuable playing time as a rookie with the Dolphins, with 28 tackles, 7 passes deflected, 2 interceptions and one defensive touchdown in 2009. Not to mention, one of those interceptions was a spectacular grab over a 6-foot, 4-inch Randy Moss in Foxborough (see video below). His performance
has
been up to par with what was expected as a first year starter.
Which brings us back to the point, there is a serious possibility that a little harmless family feud between the Davis brothers has raised the level of performance for both San Francisco's Vernon Davis and Miami's Vontae Davis.
If that's the case, then 49ers fans and Dolphins fans can only hope they continue this petty competition as it has paid dividends for both teams.