On the eve of the recent Braylon Edwards acquisition by the New York Jets, the AFC East has finally capitalized on marquee receivers - all except for the Miami Dolphins. Yes, Terrell Owens has not succeed in Buffalo thus far, Randy Moss isn't playing to full potential and Braylon Edwards is known for dropping the ball. But there is no doubt that all of those receivers have greater talent than any WR on the Miami Dolphins roster.
With that said, there is still a chance for the Dolphins to go out and shop for a top receiver of their own. Just look at this season's teams that are on a crash course for doom: the Oakland Raiders, Kansas City Chiefs, Tampa Bay Buccaneers and St. Louis Rams.
Most of those teams have receivers that could positively impact Miami's roster and assist Chad Henne in his journey towards becoming a legit NFL quarterback. We break down the players of interest that could benefit Miami's offense:
Kansas City Chiefs
Dwayne Bowe
had a breakout season in 2008 under a constantly changing QB rotation in Kansas City. Whether it was Brodie Croyle, Tyler Thigpen or Damon Huard, Bowe was out there making catches and boosting up his stats.
At this point he is a highly touted talent amongst many NFL scouts and is Kansas City's main weapon on offense. But that wouldn't stop them from trading him.
Kansas City is in a mess and the organization knows it. With the franchise in decline, their best chance is to trade for value and rebuild in 2010. Their defensive and offensive lines are lacking in overall substance and need to be bolstered before they can even think of improving their record.
The Dolphins can't go wrong with a receiver that is averaging about 1,000 yards through the air in his first two NFL seasons. If Miami is willing to offer a draft pick and a player (or two), then there may be a new #1 WR coming to town.
Tampa Bay Buccaneers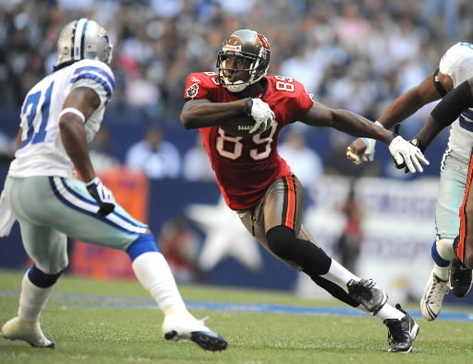 Antonio Bryant
is a veteran option that excelled in Tampa Bay last season. Recording over 1,200 receiving yards and 7 TDs, he was the Buccaneer's top receiver in 2008. Unfortunately, 2009 hasn't gone in his favor (or in favor of his team for that matter), but that's because he is recovering from a knee injury that has limited him for the first four weeks of the season.
The Buccaneers are in crisis mode with the quarterback situation and have a hesitance to play Josh Freeman, thus leaving the receivers in a tough spot. The journeyman Bryant has already been on four different teams and knows what it's like to adapt to a new system. These factors could be the driving force behind a potential trade offer between Miami and Tampa Bay.
The question is: does Tampa see Bryant as a short-term or long-term solution? They do want to have some weapons in place for their heir apparent QB Freeman once his number is called, but will Bryant be a part of that arsenal? That will be the deciding factor.
St. Louis Rams
Donnie Avery
is a young receiver with loads of talent behind him. In a Rams teams full of holes, Avery is on a franchise headed for a crash landing this season. The biggest problem with a potential trade would be the support he has from fans in St. Louis - they would hate to see him go. But if the price is right and a lucrative set of picks and players is presented, the Rams will not pass up on it.
Avery only had 674 receiving yards along with 3 TDs in 2008, but that was as a second and third string receiver. He has speed, agility and great hands with only experience against him. If Miami wants to get the production they expected from Ted Ginn Jr., then Avery is their guy.
The Rams are having all sorts of problems early into the '09 season and are looking at another rebuilding year come 2010. Marc Bulger is evidently hurt and not as effective as he once was. Steven Jackson is a one-man wrecking crew and may look to play elsewhere if St. Louis continues its crash course. Let's not forget all of the ownership discussions involving the controversial political radio host, Rush Limbaugh.
If this is not an indicator that St. Louis needs a full makeover, then who knows what is. If a makeover is already in the works, then Avery may be on the trading block (at least on the down low).
Oakland Raiders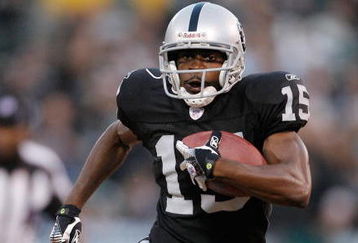 Johnnie Lee Higgins
is a developing talent out of Oakland. He has caught only 400+ yards and 4 TDs in his first two seasons with the Raiders, but it's understandable with a struggling Jamarcus Russel under center. He has game-breaking speed and decent hands to combo as a kick returner and a wide receiver.
Higgins would not be coming in as the #1 WR, but could definitely work his way there with Chad Henne as his QB and a versatile Miami offense. This is an unlikely match for the Dolphins, but nevertheless a possibility with the need for more weapons on offense.
Essentially, he's a more successful Ted Ginn Jr. playing under a sloppy Raiders offense. A few fly, post and corner routes in Miami and this guy might create a deep threat (with secure completions and not dropped passes).
On the downside, Higgins is coming off an injury and has not fully recovered - lowering the chances that Miami would pull the trigger for him. Either way, it's safe to say he would be a cheap acquisition with low risk involved.
Conclusion
There are viable options out there for Miami to explore before the week six trade deadline. It will be a waiting game for fans to see if Miami answers New York's move with a counter of their own or
stick with their guns like they did in the off season
(although Ginn hasn't "broken out" as expected).