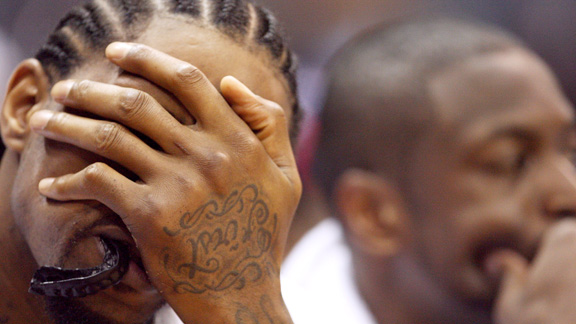 On Tuesday, Coach Eric Spolstra made a change to his starting line-up. For the first time since his rookie year, Udonis Haslem will serve as a 6th man. He will join SG Daequan Cook,PG Carlos Arroyo and SF Dorell Wright off the bench. Off-season acquisition Quinten Richardson will start a Small Foward along side Beasley, Wade, Chalmers and Jermain O'Neil.
The Heat open the season at home on Wednesday versus the New York Knicks.
Haslem,who is entering the last year of his contract, vowed to spend his off-seasons working on his offense but has only managed to average 10 points per game for his career. He has never materialized into the second or third scoring option that the Heat needed. His forte has always been defense and rebounding. There was a fire in his eyes when he came off the bench his rookie year. He dominated the boards and hit clutch 15 foot jumpers.The Heat lacked a spark off the bench last year. They constantly moved around the starting line-up but never made the switch that made sense.
The Heat are now looking foward to the future at Power Foward with Michael Beasley. Despite his off court problems, Beasley has what it takes to take the Heat to the next level. He was the second leading scorer behind Dwayne Wade with 13.9 points a game last year coming off the bench. The Heat will know be smaller and faster. Richardson will now bring perimeter help on defense to take some load of Dwayne Wade.
No one has more heart on this team then Haslem. He has always done everything that was asked of him. He wasn't pleased when he spoke with the media on Tuesday but said he will do whatever is asked of him. "I've been the ultimate team player and I made the ultimate sacrifice throughout my career. This is just another situation where I've been asked to do it again."