It's been a fairly quiet off season for the Miami Heat, despite the
Eastern Conference powers beefing up
. It has become clear that the Heat are setting themselves up for the best possible opportunities in a lucrative 2010 free agent market.
Sure there were some issues with Dwyane Wade, but those problems seem to have subsided. And Michael Beasley's rehab issues flooded the news wires for a few weeks, but that too descended from the lime light. The focus is now on the season ahead and how it will position Miami for the future.
The Franchise: Dwyane Wade
Wade is the present and the future for the Heat - there's no doubt about that. Going into a contract year, fans can expect him to mimic a 2008 season filled with MVP-like moments and plenty of buckets (after all, he was the scoring champion). The doubters will still be present though, pointing at 2009 as a "wasted year" with more wear and tear on Wade's 28-year-old body. "He's getting old" they say. Last time the NBA record books were checked, Michael Jordan won his first NBA Championship at 28.
Those who know D. Wade know his passion and relentless attitude towards succeeding. His commitment is as high as anyone found in the league today. With that said, he has shared his desires to stay committed to Miami - bypassing the contract extension he was offered for strictly business purposes.
It should not be a surprise to see number three sign a new contract with the Heat come 2010 (with around 120 million reasons reminding him why he stayed in Miami).
Banking on Wade being the centerpiece of the Heat franchise, there are key pieces to the puzzle that make up the core of the team: Michael Beasley, Mario Chalmers and Daequan Cook.
A Young Future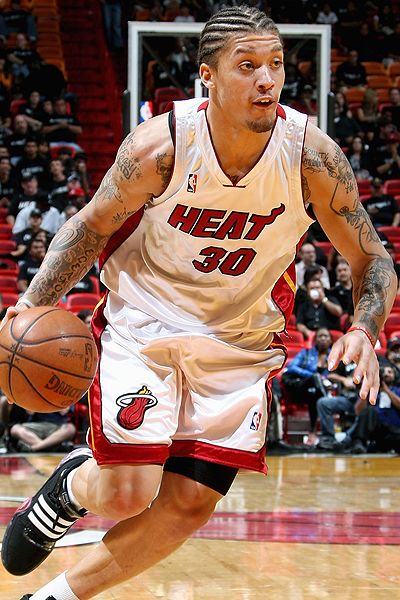 Beasley has been the topic of criticism on and off the court, but is aimed at an improved season entering '09. Whether it's defensive struggles or substance-abuse issues, many have had something to say about the sophomore forward.
The facts are that Beasley is a productive player in Miami's offense. B-Easy averaged 13.9 points (pts) and 5.4 rebounds (reb) per game in about 25 minutes a night. Given enough minutes, Beasley could produce more for the team and become the definitive number two scoring option behind Wade. If he has matured as an NBA player and fixed some of his defensive flaws in the off season then expect a better year from the kid.


As for Miami's point guard, Mario Chalmers had an impressive rookie season given the circumstances. Starting every game in '08, Chalmers gained valuable in-game experience that should translate into this season's performance. His numbers were not staggering, standing at 10.0 pts, 2.8 rebs and 4.9 ast per game, but they should not be a cause for concern. After all, Jason Williams, Miami's starting point guard during their 2006 Championship run, posted similar stats en route to the NBA title (12.3 ppg, 2.4 rebs, 4.9 ast).
With continued development and one year of experience under his belt, Chalmers is setting himself up for a more productive year with less mistakes. He doesn't need to be the floor general of the team in order to succeed in Miami, that's what Dwyane Wade is in town for.


Daequan Cook is the oldest of the young core, being drafted in 2007. He has showcased his pure shooting ability thus far in his young career - with a 3-Point Competition Championship to prove it. His sporadic play is what has kept him off the court and on the bench the most. After the 2008 All-Star break, Cook's numbers decline drastically and were nothing like his early season statistics. Amidst the drop-off, the coaching staff voiced their confidence in the 6'5 guard and ensured he was a part of the team's future.
Now Cook must rebound in '09 with a cast of other deadly perimeter shooters surrounding him, all wanting playing time. James Jones and Quentin Richardson have already made a living off the three ball, it's Cook's turn to make his money's worth. Look out for more aggressive play coming from the third year three-point specialist.
Beyond 2009
It is clear that Miami will have difficulty making a run deep into the playoffs with teams like the Cleveland Cavaliers, Boston Celtics and Orlando Magic standing at the helm of the East. Miami's success lies beyond 2009 in what could be a franchise defining off season. Pat Riley will have to make all the right moves in order to catapult the Heat towards elite status.
Whether it's Chris Bosh, Amare Stoudemire or any other big name acquisition, the stakes are high and Miami has plenty of chips to play with. Having virtually no players on the books after this season, Pat Riley will have a bundle of cash to lure key players in with. The task is using that money to build a team with star power and quality depth, similar to the 2006 Miami Heat roster.
Fans may not recognize the team come 2010's opening day, but they can be assured that it will be a much improved roster (at least on paper).