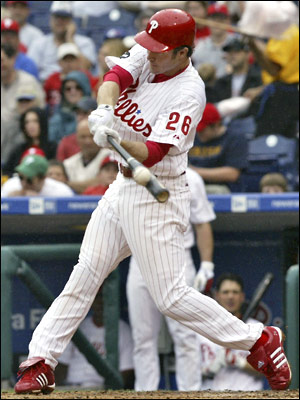 Last night Dan Uggla was able to do something that Rogers Hornsby, Jackie Robinson, Joe Morgan, Ryne Sandberg, Jeff Kent, and Chase Utley couldn't do.
Uggla, a .259 career hitter, placed himself in the record books by becoming the only second baseman to hit 25 homeruns in his first four years. The homerun came in a game that started with Uggla getting into a confrontation with teammate Hanley Ramirez about him pulling himself out of Tuesday night's game.
"Whether that fueled emotion for tonight, who knows," Uggla said.
With one month remaining until the bell tolls, Dan is looking to have his 3rd straight 30+ homerun season.
Uggla is currently second among active second basemen with 115 career homeruns behind Chase Utley's 159, who is in his 7th season. Jeff Kent, regarded as one of the best offensive 2nd baseman to play the game, is the all-time homerun leader among second basemans with 351.
Some can argue that in an era of steriods this feat is irrelevant, but one thing is for sure, Uggla and Utley are a new breed of 2nd baseman. Both of them still have a lot of baseball to play and as long as neither of the two get overtaken by the pressure that succombed Alex Rodriguez into taking performance enhancers, fans will be able to enjoy a duel a la Mark McGwire and Sammy Sosa (maybe not
that
exciting though).
One, if not both, of these talented athletes could very well reach the 500 homerun plateau in their careers. It's almost guaranteed. The question is will there be any more players that follow their suit. Only time will tell. For now just sit back and enjoy the show.