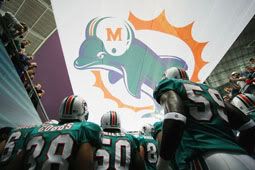 With the final score of 27 to 17 the Miami Dolphins took their second straight pre season win, improving on last game's performance and gaining more practice as the regular season nears. A pre season win should not be taken too seriously, but the elements that led to that win are what should be considered.
The Dolphins were able to put together some successful offensive runs and score 15 more points than they did against the Jacksonville Jaguars. The highlights of the game included the five Wild Cat plays executed, Lex Hilliard's impressive rushing performance and the solid play from the QB unit.
When Ronnie Brown lined up at QB with 4:42 left in the first quarter the crowd quickly realized that the Wild Cat formation was in effect and began to rock the stadium with excitement and anticipation. The first and second tries didn't go too well as Brown went for a 3-yard rush followed by no gain, but the final three tries had more success - an 11-yard run by Ricky Williams, a 4-yard gain by Ronnie Brown and a 35-yard flea-flicker pass to Patrick Cobbs by Chad Pennington.
It is still debatable whether the Fins should or should not have used the Wild Cat in the pre season as teams can now study their plays even before the season starts. On one side you have the element of in-game practice, which are essential for proper execution during a regular season game, and on the other is the element of eliminating surprise since teams now have seen it all. It's likely that the Fins will scale back their Wild Cat plays in the last two games and keep a few tricks up their jersey sleeves, reserved for the real season.
On another note, Lex Hilliard continued to impress on Saturday night with 9 rushes for 52 yards and 1 TD along with 2 catches for 11 yards. His future with the team is still hanging in the balance as roster cuts approach. NFL team scouts were undoubtedly eyeing him, including scouts from the Cowboys and Vikings, so should he be cut there are takers already in line. With Ronnie Brown, Ricky Williams and Patrick Cobbs loading up the RB position there seems to be no room for Lex. His explosive power runs may not be enough to earn him a spot on the Dolphins with the RB situation virtually locked up.
Speaking of locked up, the Fins quarterbacking core had a great showing overall as they combined for 20 of 30 in completions and 184 passing yards. Depth is now a viable word to describe Miami at the QB position. Pat White played in the second quarter, while Chad Henne played the entire second half - a change from last week's game that gave White and Henne different looks at the game. With two games still left in the pre season, expect Sparano to switch around Henne and White some more and give them a variety of situations to handle in preparation for the season's start.
Interview Session
I was able to catch up with a few players in the locker room after the game and ask some questions regarding the game, the upcoming season and their feelings about the team.
Quarterback Unit in Focus
Chad Pennington, Chad Henne and Pat White were in the lock room after the game open for questions from the media. Luckily I was able to sneak in a few questions to each one and get a better grasp of the state of Miami's QB position.
With Chad Henne playing the second half this time around I asked him what the difference was from last game. He said that it was easier to "get comfortable playing a whole half," hinting at the fact that it allowed for more continuity with the offensive unit. Henne went onto state that no matter what time he's put into the game he just wants to focus on the basics, citing that "Coach Sparano preaches fundamentals" to the team constantly.
Pat White only played the second quarter, but was a focus of my attention as he will likely play an intricate role with the team this year and down the road. "How did it feel playing in the first half as opposed to the second half, was there any difference?," I asked. Pat responded with a simple "football is football, you know." I followed up by asking if he noticed that the defensive players were faster and tougher to play against. Pat just said "if you worry about that stuff you've already lost the game."
Pat was very humble and came off as a genuine guy in our brief exchange. On a final note with the QB from West Virginia I inquired about his readiness for the season and how he feels being in Miami. "I feel comfortable and I'm just learning the game," Pat stated. For a young QB with plenty of talent and potential, Pat White seemed like a steward of the game and someone who wants to improve his game everyday.
Next up was Chad Pennington, and I was able to get in a question after
ESPN's Chris Mortensen had finished his rounds on the final stop of Mort goes to Camp
. Pennington came off as a seasoned professional who knew how to deal with the media and answer questions with ease and poise. I opened up by citing last year's success on his first stint with Miami and asked how he feels entering this season with last year's experience under his belt. Chad said "it's a smooth transition as opposed to a cram session...but at the same time there are higher expectations to perform at a higher level." Very worthy answer and a great show of awareness by the starting QB - there is no doubt that this upcoming season will hold higher standards for the defending AFC East Champions.
The Rookie and the Star
Vontae Davis and Ronnie Brown stuck around after most Dolphin players found their way out of the lock room. I was able to speak with both of them in casual and slightly humorous manner.
Vontae had come off a game where he committed three penalties and didn't get in a groove at all, but redeemed himself with four tackles against the Panthers. So, I asked him what was different this time around. His response: "Coach Sparano preaches fixing one's mistakes...if you don't do that, you aren't playing the game." Davis took the same path as Henne in citing their head coach, which says a lot about his influence on the team and the young players in particular.
I also asked Vontae about his readiness for the regular season and he took a cautious approach by saying "I still got to go watch film and take it a game at a time." At least we know that the first-round pick is taking the pre season as seriously as possible.
To finish off the night, I was able to throw Miami's star running back, Ronnie Brown, a question - one which was a bit unorthodox. "Where do you feel more comfortable running the Wild Cat: on the field or in Madden 10?," I jokingly asked. After a brief chuckle, Ronnie said "on the field because I have more control over what's going on."
On a more serious note, I added onto the Wild Cat discussion by asking how he feels the Wild Cat will play out this season now that teams have seen it. Ronnie rebutted with, "it's no surprise...we will have to execute well in order for it to work well." Fair enough - team's will study film until night's end before they face Miami, but with Brown and Williams in the backfield it will not be easy to stop Miami's smash-mouth RB tandem. Add Pat White to the equation and now there's a legitimate passing threat with the Wild Cat.
With that said, who knows what the Wild Cat will bring to Miami's dynamic offense.