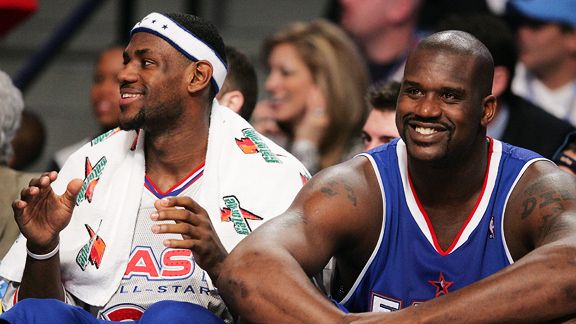 It seems as though the anticipation for the 2010 off season has led teams to make big moves now, some which may be more valuable than the projected moves for next year. The biggest trend is summed up in one phrase: "The contenders just got better."
We have seen three out of the four Eastern and Western Conference Finals teams re-up by making major additions to their roster. The reigning NBA Champs Los Angeles Lakers have brought in Ron Artest to bolster their seemingly intact roster from last season. The Orlando Magic have added Vince Carter (A.K.A. Vinsanity) to their crew. And last, but not least, the Cavaliers brought Shaquille O'Neal into Ohio to partner up with LeBron James.
Other notable signings and trades include:
Hedo Turkoglu signing with the Raptors
Mike Miller and Randy Foye going to the Wizards
Richard Jefferson and Antonio McDyess heading to San Antonio
Shawn Marion going across the border to the Dallas Mavs
Ben Gordon and Charlie Villanueva roll on into Detroit
Rasheed Wallace taking a trip to Boston
Trevor Ariza becoming a Houston Rocket
So who wins and loses amidst all the movement? It's pretty evident that those who lost players were the losers, for the most part.
Ron Artest going to the Los Angeles Lakers was a huge move for L.A. and automatically makes them a championship repeat threat. The departure of Trevor Ariza and potentially Lamar Odom could hurt their depth though. Both players were intricate pieces in last year's playoff run. Losing one is acceptable, but losing both could create some problems.
Projected Lakers Lineup:
PG - Derek Fisher
SG - Kobe Bryant
SF - Ron Artest
PF - Lamar Odom (pending)
C - Pau Gasol
When Orlando announced that they acquired Vince Carter in a trade during the 2009 NBA Draft, it seemed like a deal that fell out of the sky. Not only do the Magic get rid of excess players, they receive a second solid player in the form of Ryan Anderson (who's lighting up the Summer League). Courtney Lee is a promising player, but the Magic do not need him now that they have Vinsanity. Letting go of Rafer Alston and Tony Battie was a no brainer for two reasons: A) The team had four (4) point guards on the roster, and B) Battie is reaching the limits of his career at age 33.
Projected Magic Lineup:
PG - Jameer Nelson
SG - Mickael Pietrus
SF - Vince Carter
PF - Rashard Lewis
C - Dwight Howard
"The Big Witness" or "Shaqalier" (whatever shaqname you want to call him) was major for a team that underachieved last post-season. LeBron James needed help, now he got it. There have always been Shaquille O'Neal doubters ever since he left Los Angeles, but he's already proven people wrong time and time again - with a ring in Miami and a showcase in Phoenix that proved "I can run with the fastest offense in the league." Shaq wanted Kobe to get his fourth ring, but you bet he wants a fifth ring for himself. Although it's debatable, it seems like Cleveland is improving rather than regressing with this move. One thing that can be said is that this is an "all or nothing" move by the Cavs. We can only wait to see if it's a home run or a miserable strikeout.
Projected Cavaliers Lineup:
PG - Mo Williams
SG - Delonte West
SF - LeBron James
PF - Shaquille O'Neal*
C - Zydrunas Illgauskus
*It is still unknown as to how the Cavs will use Shaq (maybe he'll switch off with Big Z or come off the bench).
Lightning Round for Other Trades & Signings
Hedo Turkoglu to the Raptors, but loss of Shawn Marion leaves them at a stalemate. Similar team, slightly different faces. Thing is that Hedo is a bit more ball-hungry than The Matrix is. We'll see how that works out.
Mike Miller and Randy Foye are upgrades for an ailing Wizards team. They are nice compliments to the Wizards' core of Gilbert Arenas, Caron Butler and Antawn Jamison. Expect the Wizards to make a playoff push and contend for the 5-8 seeds.
San Antonio made some impressive off season moves by trading for Richard Jefferson and signing Antonio McDyess, while drafting DeJuan Blair and Jack McClinton. The front office should pat themselves on the back because the Spurs are a force to be reckoned with once again.
Mark Cuban has some big pockets and he emptied out some change to get contract-heavy Shawn Marion. It adds athleticism to the squad and brings in an element of hustle to the team. Dirk Nowitzki, Jason Terry and Josh Howard should all be happy with this move.
Detroit has gone in a different direction once they dismantled their 2004 squad, and it's a more versatile approach to the game. Adding Ben Gordon and Charlie Villanueva brings exciting offense and hustle defense to the team. Check plus for the Pistons.
Rasheed Wallace may be nearing the end of his career, but he is still a reliable veteran PF that can shoot threes, play defense and show veteran poise. With Kevin Garnett back and healthy, the Celtics cannot be forgotten. The only issue is the age of their core players, besides Rajon Rondo and Glen Davis.
Houston's problems trump the upside that Trevor Ariza brings. It's as if the Lakers and Rockets swapped players - Artest to L.A. and Ariza to Houston. Ron Artest is the better player on paper, but does not bring the intangibles that Ariza does. Besides that, Houston is dealing with Yao Ming's foot dilemma, which could cost him the entire season. Ariza is exciting, but does not solve Houston's greater issues.