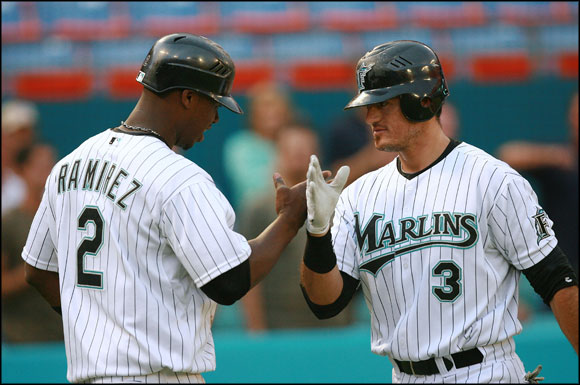 Home sweet home, or we hope it is so. The Florida Marlins have been on a rocky road of ups and downs after their premature early season surge. If there is any time to settle down and get back on track to victory it is now.

The sunny tropical South Florida weather should set the scene for a laid-back approach for anybody strolling into town. As for the Marlins, there's no time to kick back and take a back seat in this home stretch. On the contrary, it's time for the Fish to strap on those cleats and sweat it out in each and every game; all 90+ innings of them.
Jorge Cantu cannot be the sole offensive force on this squad and Hanley has picked up as well, but where is the production from Dan Uggla, Emilio Bonifacio, Cody Ross and company? I think the front office sent a message by sending Cameron Maybin down to Triple-A and calling up Chris Coughlan.
The move on Maybin my be a forewarning to Bonifacio, letting him know that the patience is running out and his spot is not guaranteed in stone. In case Bonifacio does get sent down, we expect Gaby Sanchez to be given a shot at 1st base while Jorge Cantu moves back to 3rd base.
If we take anything positive as of the Marlins recent performances, we can say that the pitching has temporarily regained its potency during the Colorado Rockies series. The Fish only allowed a combined 7 runs in the series and gave up no more than 3 runs in any of the games. This comes from a collective effort from the starters and the relievers. Now all that's needed is consistent scoring.
For the season, the top hitters on the team (Cantu, Ramirez, Uggla, Bonifacio, Hermida and Ross) are only batting .256, with Cantu leading (.348) and Uggla slumping (.189). It's tough to see such a talented team fizzle out so early in the season after starting so hot.
What needs to be regained is not the long balls and multi-base hits, but rather the small ball tactics that got the Marlins ahead in the first place. Back to the basics.
To sum up the story, the Marlins have still not returned to early season form (although we don't expect any more 11-1 win streaks), but they have not continued on the path towards destruction. A little shaking up might not be such a bad thing and could keep the players on their heels, so that they wont feel complacent with where they stand. It's all about taking your game and your team to the next level.