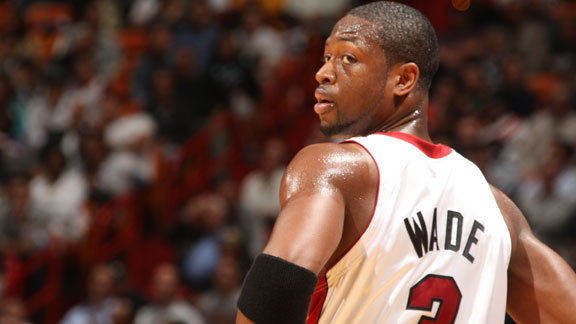 While many knew that the Miami Heat were not their usual selves in game one of the series, I'm not too sure anyone thought they'd be back with such a dominating performance in game two. We predicted that the Heat would
only get better
from their awful showing in their first appearance and that
Dwyane Wade
would finally show up to play the next time around. Not only did Wade step up, he stepped back (and hit six out of ten three pointers). His overall performance told the league, "not so fast before you cast your LeBron MVP votes on the ballot."
Wade was magnificent on Wednesday night, but let's not deny the contributions of a few other key players that made a huge difference in game two.
Jermaine O'Neal
had an epiphany in game two. It was as if his knees resurrected from the abyss of injury and gave him a pep in his step from the first to the last minute. To prove my point, O'Neal posted 19 points, 6 rebounds, and 4 blocked shots; a huge improvement over his virtual absence in game one. Dwyane Wade told reporters after the game that O'Neal wanted to assert himself more in the offense and Spoelstra played on that idea - we all saw the results.
Michael Beasley
was another game one non-factor that played a big role in game two. Coming off the bench, he scored 12 points and gobbled up 7 rebounds. If the Heat want to win this series, they will need production off the bench and that's what they got from Beasley on Wednesday night. This time around B-Easy seemed more poised and less anxious to shoot the ball. I believe Spoelstra's order of setting the pace played a role in that.
Daequan Cook
was instant offense off the bench next to Michael Beasley. He reminded everyone in Atlanta that he was the Three Point Competition Champion in the All-Star Weekend. Cook dropping 6 three pointers, matching Wade beyond the arch, helped add 20 points to the scoreboard and created a perimeter threat all game long for the Hawks.
Udonis Haslem
was not a statistically beneficial to the Heat, but he did come through with big shots when the game was on the line. Mid way through the 4th quarter Atlanta was making a run and Wade received his 5th personal foul. Who came though? The savvy veteran forward with back-to-back jumpers that kept the Heat lead intact. He may have only scored 10 points and secured 7 rebounds, but he was a clutch performer and that's what counts.
Now the Heat head back to Miami where the AA Arena will be packed and rockin'. Miami's new playoff theme, "Black is Back," will paint the arena in a sea of darkness. Black means business and that's what the Miami Heat mean.
One thing we must note is that two games in Miami does not guarantee two wins in Miami. The same way we stole one in ATL, the Hawks can steal one in MIA. The fans will be in full force to support their team and the players will have momentum at their backs. The edge will go to Miami, but the task that lies ahead will not be simple at the least.
Let's see if Miami can repeat their 2004 performance when they dethroned the surging New Orleans Hornets and made it to the second round. Only time will tell if destiny is on Miami's side this time around.