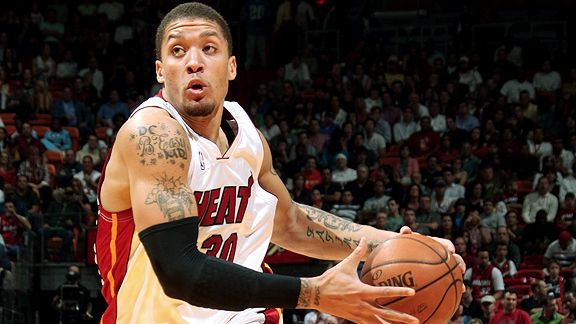 On draft day Miami knew that Michael Beasley was their guy. A dynamic forward with ambidextrous skills and the uncanny ability to score in bunches, Pat Riley had a vision of B-Easy in a Miami uniform. For most of the season Beasley had played well, maybe not as well as expected, but good enough to have an impact. As the season neared an end, Beasley found his niche and began to prove to the league that: "I'm not just as they say I am, I'm better."
The development of Number 30 in Miami has been slow but progressive. Averaging about 13 points a game throughout most of the year, he played a role on the starting lineup and off the bench. While Derrick Rose was playing the role of leader in Chicago, Beasley was being mentored by veterans like Udonis Haslem, Jermaine O'Neal, and the former Shawn Marion. Rose may be the eventual Rookie of the Year, but Beasley has definitely proven that his potential is sky-high.
In the final five games of the Heat regular season, Beasley averaged a double-double in 3 out of the 5 games. Over the stretch, he had 24.2 PPG and 11.2 REB - statistics that solidify his readiness to play in the NBA. Give Michael a starting spot next season and you can expect those numbers all season long. Michael Beasley is officially "in the building."
There isn't a better time that B-Easy could be performing at such a high level and we can only hope that it carries over into the playoffs. Let's not forget his 23 points in 24 minutes versus the Hawks on April 14th. He can score, and now he's shown that he can score against the Hawks. Let's see how it plays out on April 19th when the lights shine brighter and intensity grows larger.
It's game time and Michael Beasley is ready to play.